Anna's Ranch – Photo Credit Peter French
The green, upcountry community of Waimea on Hawaii's Big Island is a storied paniolo (Hawaiian cowboy) town, established almost 200 years ago in the heart of Parker Ranch. Once one of the largest private cattle ranches in the world, Parker Ranch began with a small spread given to British sailor John Palmer Parker by King Kamehameha I.
Waimea translates as "reddish water," as in runoff from red soil into the area's numerous streams. There are Waimea towns on O'ahu and Kaua'i, but our Waimea has a second name. It's also known as Kamuela—adopted by the Post Office in 1901 to differentiate it from the others. Kamuela is a Hawaiian-ized version of the name Samuel, chosen for John Parker's grandson.
There's a funny story about the Waimea's legendary lady rancher Anna Lindsey Perry-Fiske, who was flying home to the airport just outside of town. Apparently, when the pilot announced they would be landing at Kamuela Airport, she was outraged (pretend or not) and demanded to be taken to Waimea Air-port. (It's now called Waimea-Kohala Airport.)
Mauna Kea and Waimea view from the Kohala Mountain Road – Photo Credit Peter French
Today, kama'āina, like Anna, still prefer Waimea over Kamuela. And, with the strong trend to-wards restoring the original Hawaiian names to places across the Islands, Waimea is the best choice.
In addition to its two names, Waimea has two very different aspects of climate, one lush and green, one dry and almost desert-like. With an average of only 15 inches of rainfall each year, the western or "dry side" boasts plenty of sunshine, allowing for the benefits of solar power, as well as breathtaking ocean and sunset views in many areas.
The eastern or "wet side" of Waimea is blessed with plentiful rainfall, about 65 inches per year. This is caused when moist air carried by tradewinds reaches the mountains. It rises, cools, turns into rain clouds, and brings tropical moisture to the green side of Waimea.
Waimea showers bring beautiful flowers, lawns, fruit trees and vegetable crops—perfect for gardeners and farmers. Home prices tend to be a bit lower on the wet side, and it's also one of the few island com-munities where folks enjoy a "seasonal" lifestyle, with sunny summers and cozy winters in front of a fireplace (believe it or not).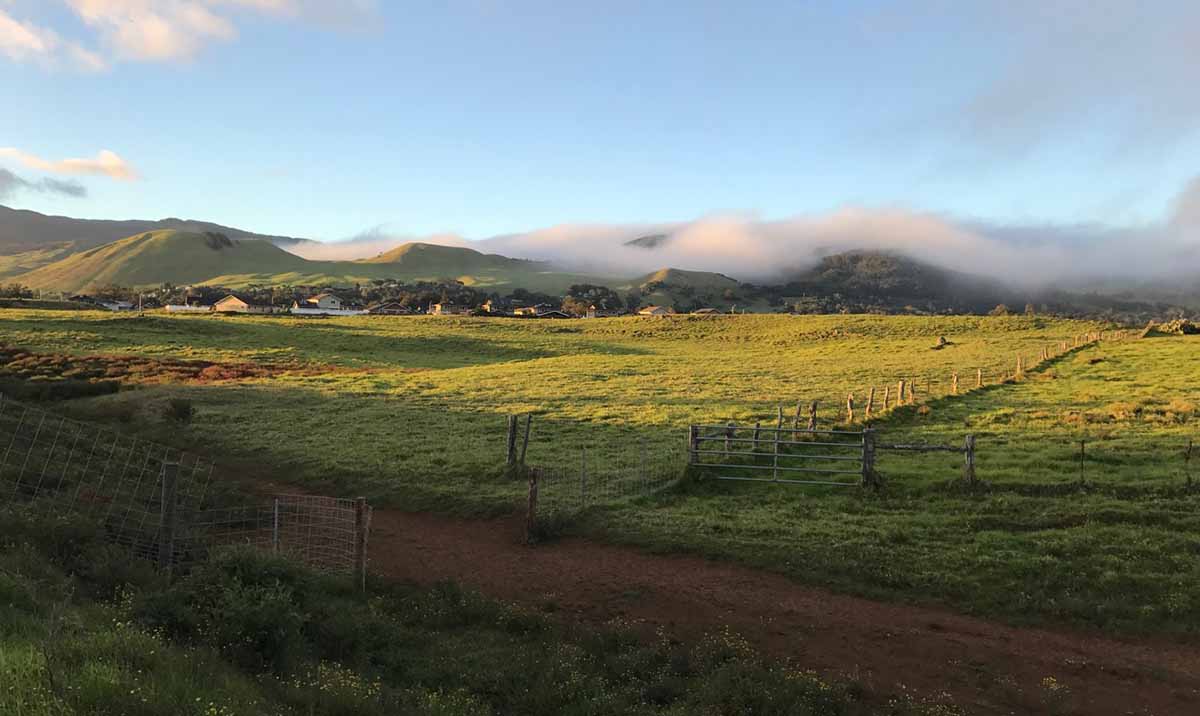 Waimea Fog
In the heart of Waimea town, where the wet and dry sides meet, rainbows brighten the skies almost every day. It's a gorgeous, gracious, growing place to live, with excellent private and public schools, several farmers markets, and a beautiful performing arts center at the Kahilu Theatre, built by sixth generation Parker Ranch heir, Richard Smart. Waimea is also home to the ground headquarters for W.M. Keck Tele-scopes, a member of the extraordinary astronomical community on Maunakea.
With its roots in history and eyes on the skies, Waimea, Kamuela, rain or shine, is a very special place on Hawai'i Island.